New England is a region in the northeastern corner of the United States consisting of the six states of Maine, Massachusetts, New Hampshire, Vermont, Rhode Island and Connecticut.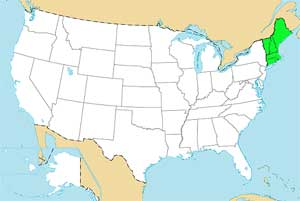 In one of the earliest English settlements  in North America, Pilgrims  from England first settled in New England in 1620, to form Plymouth Colony . Ten years later, the Puritans  settled north of Plymouth Colony in Boston, thus forming Massachusetts Bay Colony. Over the next 126 years, New England fought in four French and Indian Wars, until the British defeated the French and their native allies in North America.
Today, New England is a major world center of education, high technology, insurance, and medicine. Boston is its cultural, financial, educational, medical, and transportation center.
In july 2014 we flew into New York, rented a car and had a week on the roads thru New England. It was an amazing week.
More information here:
http://www.discovernewengland.org/