Dr. Ing. h.c. F. Porsche AG usually shortened to Porsche AG, is a German automobile manufacturer specializing in high-performance sports cars, supercars, hypercars, and lately SUVs and sedans. Porsche AG is headquartered in Stuttgart, and is owned by Volkswagen AG. The current Porsche models include the 911, Boxster, Cayman, Panamera, Cayenne, Macan and 918.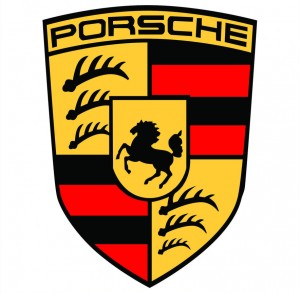 Ferdinand Porsche founded the company called "Dr. Ing. h.c. F. Porsche GMBH in 1931, with main offices at Kronenstrasse 24 in the centre of Stuttgart. Initially, the company offered motor vehicle development work and consulting, but did not build any cars under its own name. One of the first assignments the new company received was from the German government to design a car for the people. This resulted in the Volkswagen Beetle, one of the most successful car designs of all time. The Porsche 64 was developed in 1939 using many components from the Beetle.
Porsche's company logo was based on the coat of arms of the Free People"s state of Wurttemberg of former Weimar Germany, which had Stuttgart as its capital (the same arms were used by Wurttemberg-Hohenzollern from 1945-1952, while Stuttgart during these years were the capital of adjacent Wurttemberg-Baden). The arms of Stuttgart were placed in the middle since the cars were made in Stuttgart. The heraldic symbols were combined with the texts "Porsche" and "Stuttgart", which shows that it is not a coat of arms since heraldic achievements never spell out the name of the armiger nor the armiger's home town in the shield.
Württemberg-Baden and Württemberg-Hohenzollern became part of the present land of Baden-Wurttemberg in 1952 after the political consolidation of West Germany in 1949, and the old design of the arms of Württemberg now only lives on in the Porsche logo. On 30 January 1951, not long before the creation of Baden-Württemberg, Ferdinand Porsche died from complications following a stroke.
More information here: