NAURU, where is that? This is the most common question you get when talking about Nauru to friends or random people. I usually tell them now its one of the smallest nations in the world, laying in the Pacific.
Nauru is the smallest Republic and island nation in the world with around 12.000 inhabitants laying on the equator in the Pacific Ocean. The island is only 21 square kilometres and the paved road around the island is only 21km. It lays 300km from the nearest island in Kiribati. The People of Nauru has Micronesian and Polynesian origin. In the early 19th hundreds the germans ruled and after the second world war the Japaneese ruled until 1968 when they got their Independence.
Nauru was one of the richest countrys in the world in the 1960`s and early 70`s because of their phosphate resources. At that time people didn't work, they didn't pay any taxes, and the wealth the country could have saved up, were just spent with no plan for the future. Nauru has 12 clans, the same number of tip's on the star in their flag. Those 12 clans/familys owns all land in Nauru, and they are the ones that has the most Power.
To get here you either fly from the North Pacific islands of Pohnpei/Micronesia, Kosrae/Micronesia, Majuro/Marshall Islands or Tarawa/Kiribati. To fly here from the South Pacific islands you either fly from Brisbane/Australia or Nadi/Fiji. The airline is Our Airline, which was Nauru Airlines. The airfares to Nauru isnt cheap, but its the only way if you dont like spending weeks on a boat.
By the way, these days it might have gotten worse to get a entry permit for the visa. When I left the island in May 2016 I heard that they where cancelling tourist visas and had made it much more difficult to by a Journalist visa. Today you need to pay between 6 – 8000 USD for a journalist visa. The reason why its become more diffucult. is that news and stories from refugees has been uploaded to social media, and people have started asking questions about the Australian handling in this matter.
When arriving in Nauru I had allready booked my hotel, actually when you apply for an entry permit at the consulate in Brisbane you need to have the hotel booked. I waited for 30 minutes at the arrivals hall but nobody came, so I got someone at the airport to call the hotel so they could pick me up. Arriving to Menen hotel seemed ok, but after checking in I figured that not many travellers was here. I got my room and walked around for a bit, everything here was runned down, poorly maintained, toilet diddent flush, aircon wasnt working, tv with no signal etc. I actually was suppose to pay 125 AUD a night here so the price was a rip off. There is also another hotel on the island called Aiwo but this one was also full.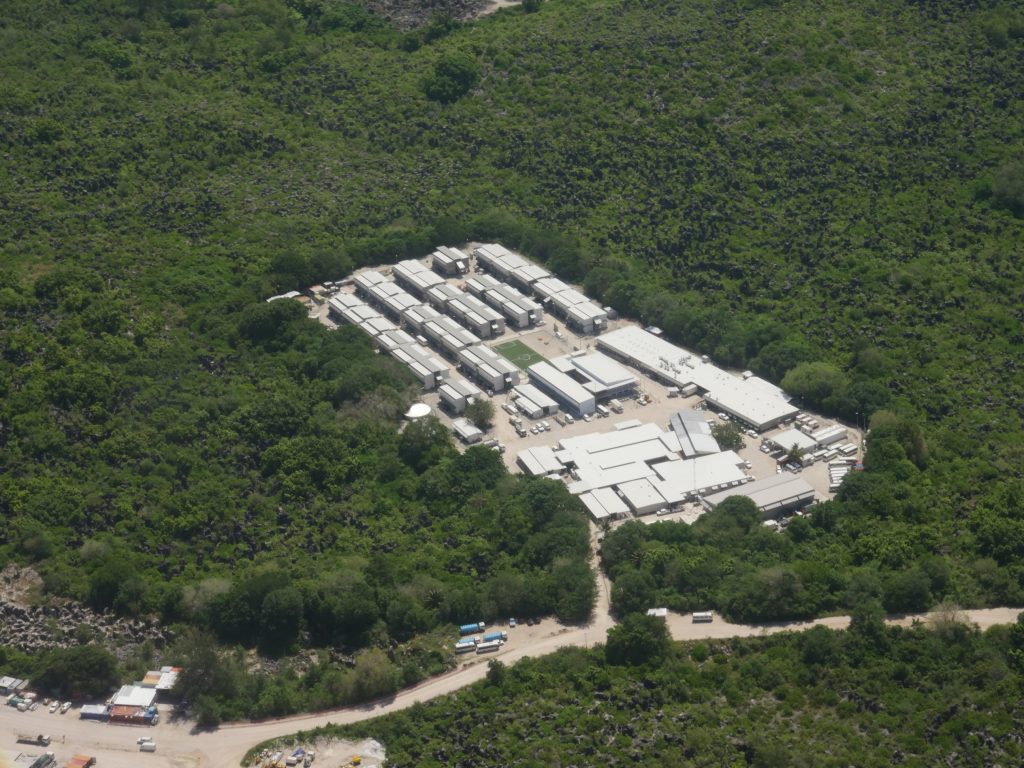 After some time a got in contact with a few people sitting outside the hotel, there was a Pakistani and Somali guy sitting on a bench as security guards, I diden`t think to much about that untill later when I found out they were put on the island of Nauru as detained refugees. I also found out that the hotel was full, but as I was the only tourist on the island at that moment i dident understand why it was full. I later asked around and found it was full because of all the refugees was living there.
As Nauru these days are struggling as a nation, after many years with wealth and low taxes, they now rent out land to the Australian government. The Australians have put up several camps or tetention centers in the middle of the island away from most people. Here 650 refugees and 250 asylum seekers is put untill the Australian government decide if they get the visa to Australia or not. Most people who are shipped here from Australia will never leave Nauru, and while they handle everyones case they cant even leave the island as their passport will be confiscated when they arrive. This also happens in PNG (Papua New Guinea) on Manus island. Amnesty International has decribed the conditions of the refugees here as terrible. But as I saw when travelling around the island, they atleast had New buildings With aircon, washing ammenities and tv`s compared to the Nauruans living in poverty most Places on the island.
As a mentioned earlier they have 12 clans on Nauru, and they own all lands here. Australia give billions of dollars to a few familys on Nauru every year. These Familys are taking most of the money with them investing in privat propartys in Australia etc, this happens while most people on the island struggle to make a living.
Corruption is big in Nauru and the Russians are also inside Nauru. Nauru has used its position as a UN member to gain Financial support from China, Taiwan and Russia. In 2008 Nauru recognised Kosovo as an independent country and in 2009 Nauru was the fourth country after Russia, Nicaragua and Venezuela to reccognise Abkhazia. In 2009 they also got a aid package from Russia, but they claim it had nothing to do with the recognision of Abkhazia and South Ossetia in the Kaukasus region. People i met in Nauru could also tell me that once a week a private plane landed with no logo on its side. The Russian mafia come here to lounder money,  and this has been a huge part of the Nauru`s Income since the 1990`s.
So what is there to do as a tourist on the island?
Run around the island country (21km) , not many can claim such an achivement.
Command Ridge, relic after WW2
Anibare Bay, one of few places you can swim
Go Fishing, rent a boat for a few hours or half a day
Walk around the Phosphate plant
Take the free bus around the island
I did most things here except fishing as I was alone and the price for the boat was to high. I actually ran/walked around the island in 2 hours and 43 minutes, and this was mid day when temperatures hit 36 degrees.
While in Nauru there isnt easy contacting the outside world as internet connection is poor. You need to buy yourself a new sim card at Digicells Offices in Aiwo or from any local supermarket who sell them. From there you charge up credit with as much money you like. Facebook is banned in Nauru but there is ways to avoid this.
For me Nauru wasn't as I thought beforehand, it's a deserted island with nothing special for the traveller. The thing I will remember from this island is all the People I met, and these people came from all over the world as refugees.
More infromation here:
http://www.ourairline.com.au/content/destinations/nauru/tourism-info
More Pictures here: