Chemodan Restaurant, a culinary theatre by Oleg Menshikov,  is a new Siberian cuisine restaurant in Moscow offering rare dishes cooked to by recipes from the Yenisei region. The restaurant boasts its own deliveries of Siberian ingredients of controlled origin: Altai game (boar, roe deer, elk, bear) and North Yenisei fish (muksun, broad whitefish, Siberian White salmon, tugun, grayling)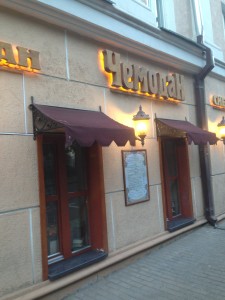 Chemodan is 20 minutes by walking from the red square in Moscow and the price level is medium, about 150 US for 3 to 4 dishes and drinks. Its adviceable to book ahead, but when we arrived it wasnt too full so we got a nice table in the middle of the restaurant. The decor is from 1920s with dark colours and basic cuttlery and lamps with velvet shades, so the feeling of beeing back in time is there.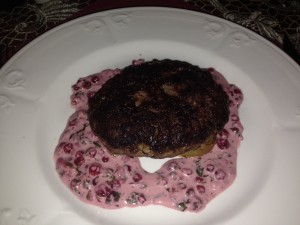 We couldnt deside when we got the meny, imagine getting your hands on fresh product from the wildest of wilderness in Russia. The main draw for me was the bear from the Sayan mountains, never have i tought it was possible to eat bear, but us beeing in Russia made that one easier. I also had Sibirian Salmon and Crab from Kamchatka.
I would definitly come back,to eat some of the different sorts i dident try another time.
Check out: www.chemodan-msk.ru/